Many of us struggle at times with our mental health and wellbeing. One of our students has written about this:
"Being human isn't about who has the better body or who has more muscles. it's about who can admit they're struggling and making mistakes. It's about not being afraid of yourself or what the world says. Strength is similar, it isn't about who lifts more weights at the gym or who can do push ups, it's about admitting to battles you face every day. It's about showing emotions and not being afraid of what the world thinks. Mental health isn't something to joke about. It's something you won't understand unless you go through it."
WHAT IS COUNSELLING?
Our aim is to offer you a safe and confidential space where you can work through worries or issues that you are currently facing which have brought you to counselling.
Counselling is a talking therapy which people usually seek when they want to change or understand something that is happening in their lives. Counselling can help you to understand yourself, current issues, thoughts, feelings and behaviours. We can help you gain a better understanding of your feelings and thought processes, and help you to find solutions to your problems.
During your counselling session you'll be encouraged to talk about your feelings and emotions with a counsellor who'll listen and support you without judging or criticising.
It can take a number of sessions before you start to see progress, but you should gradually start to feel better with the help and support of your counsellor. Our school service offers up to 12 Counselling sessions, you may not need all 12 sessions.
WHAT CAN COUNSELLING HELP WITH?
Low mood, anxiety, grief, stress, bullying, relationships, self-esteem, gender/sexuality issues.
WHO CAN ACCESS THE SERVICE?
Students attending Sale High School. It is a FREE service available Monday to Friday.
HOW CAN I ACCESS THE SERVICE?
To access the service, you can ask your Head of year to refer you to one of the school counsellors. There is a waiting list of 12 weeks but we do our best to ensure that you are seen.
WHO WILL I SEE?
Jody Timms and Natalie McNamara are our in house school counsellors.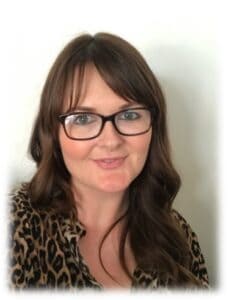 Jody Timms, School Counsellor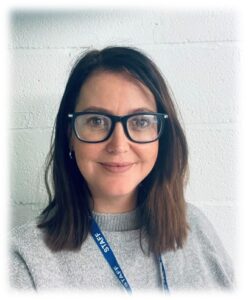 Natalie McNamara, School Counsellor
IN SCHOOL SUPPORT AVAILABLE
Mrs Jeffrey – Senior Head of Year 7 & 8
Mr Worrall – Senior Head of Year 9, 10 & 11
Heads of Year
Miss Collins – Head of Year 7
Mrs Boardman – Head of Year 8
Mrs Raw – Head of Year 9
Mrs McGrory – Head of Year 10
Mrs Varley – Head of Year 11
Counsellors –  Mrs Timms and Mrs McNamara
Emotional Literacy Lead – Miss Conce
ELSA (Emotional Literacy Support Assistants)
Miss  Moghimi
Mr Kerrigan
Miss Fahy
EXTERNAL SUPPORT
KOOTH
An online mental wellbeing community offering free, safe and anonymous support for all.
SHOUT
Shout is a 24/7 UK text messaging service for times when people feel they need immediate support. Text 85258
MIND
An organisation providing young people with practical support with their mental health and wellbeing.
CHILDLINE
A charity providing a 24 hour support helpline to children and young people, along with other support information online.
YOUNG MINDS
A charity who provides a range of support for young people regarding mental health and wellbeing.
EARLY BREAK
An organisation providing young people with support on areas of addiction, in particular, related to drugs and alcohol.
We know that winter exam season can be a stressful time for our young people. Here is a selection of services available in, and outside of school, that students can access to support good mental health even if they are still waiting for counselling.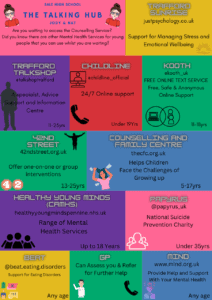 Supporting Teens with Anxiety
We hosted a coffee and counselling session to help parents support their young people with anxiety, particularly around exam season.