At Sale High School we run a successful reward system which has been developed in consultation with our student council and Junior Leadership Team.
Students from Year 7 to Year 10 are assigned to one of our 4 houses; Howard, Pankhurst, King & Turing. Year 11 students are assigned to our new house – Attenborough.
Every form belongs to one of the 5 houses. We hold numerous inter-house competitions throughout the year which give students the opportunity to earn achievement points for their houses.
Houses
Each house is managed by a Director of House. They lead a house assembly once a week.
Pankhurst – Miss Conce
Named after Emmeline Pankhurst, who led the suffragette movement, successfully campaigning to get women within the UK the right to vote, Emmeline was probably one of the most influential women of the 20th Century.
Howard – Mrs Rainey
Named after Kirsty Howard, who helped raise millions for Francis House Hospice in Manchester where she recieved care. Kirsty was an inspiration to many young people.
King – Mr Reeve
Named after Martin Luther King, probably one of the most famous civil rights acitvists within US history, always remembered for his "I Have a Dream" speech. Martin Luther King's campaign for civil rights is as valid today as it has always been.
Turing – Mr Scully
Named after Alan Turing, a mathematician and computer scientist who worked at Bletchley Park helping to crack the Enigma codes during the second world war. He is widely regarded as the father of artificial intelligence.
Attenborough – Mr Williams
Rewards & Achievement Points
Students can earn rewards regularly in the form of achievement points which are issued electronically by teaching and support staff. This can be checked via Satchel one or using the SIMs app. There are weekly, individual and half termly awards as well as rewards for the house who has the most points. An example of the rewards are on offer can be found below, these change on a half termly basis: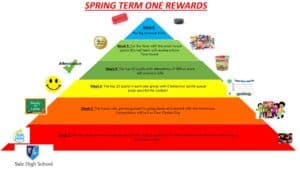 Week 7
Party for the form with the best attendance and most acheivement points
Week 6
KS3 Film afternoon for students with 0 behaviour points for the half term. Names will be entered into a raffle. KS4 students with 0 behaviour points will be
entered into a draw to win a revision pack
Week 5
Own clothes day for the house with the best attendance
Week 4
McDonalds prize for students with more than 50 achievement points for the half term. Names will be entered into a raffle
Week 3
All teachers will nominate ONE student who has produced an outstanding piece of homework. Names will be raffled for a chocolate hamper prize
Week 2
Winning students will receive a gift voucherInter-House participation nominations!
Week 1
The top 10 students in each year group with the most achievement points will receive queue jump passes for the canteen