If you would like to find out more about e-safety and how to keep your child safe online please contact Miss Allen, teacher of Computing.
Internet or E-safety covers a wide range of topics and devices which comprise the 'online' experience. As parents and carers please do talk to your children about how they use the internet and keep themselves safe online. I hope the links below will help you to find relevant information which will not only inform you but help you to engage your children in the importance of internet safety.At Sale High School the safety of our students online is paramount. The Internet can be a superb resource for children. They can use it for research, to communicate with friends and family, and play interactive games. However with the rise in access to the internet, through the wide range of gaming, mobile devices and Smartphones, comes the increase in the potential for harm from inappropriate use. That's why it's vitally important to be aware of what your children see and hear on the Internet, who they meet and what they share about themselves online.
It can be difficult for parents to keep up to date with the latest technologies that children are using. Parenting in the Digital Age offers advice and resources to help you to keep your children safe.
For general advice on technologies and information on parental controls available please visit the UK Safer Internet Centre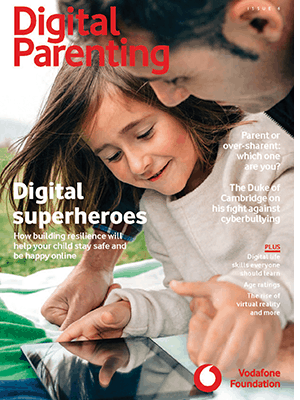 If you are you worried about online sexual abuse or the way someone has been communicating with you or your child online you can make a report directly to CEOP, the Child Exploitation and Online Protection agency.
Parental Controls (PC) do help to control the online experience of your children though they should not replace parental oversight of your children whilst online. They can allow filtered access to online sites and material so inappropriate access is denied. You can perform a 'Google'search for 'parental controls and internet safety' for more information though it is important to understand that even the best PC software may not be perfect. However with the move away from an easily supervised computer in the lounge to a mobile device in the bedroom it is a valuable step to providing protection for your children. Net Nanny (.com) is one award winning example and OpenDNS is another. These are inexpensive options which now cover a number of online devices in one household.
So what are the risks? The risks depend on the access your child has to unrestricted online sites and the way your child uses the internet. There are a number of on this page giving general online advice as well as more detailed information on specific risks your child may be exposed to.
What to do if something goes wrong? As mentioned above CEOP has links for reporting inappropriate online behaviour.
Cyberbullying
This is bullying but using technology to harass, threaten, embarrass or target another person. Childnet International is an excellent website which has a multitude of resources relating to cyberbullying.
If you suspect your child is being bullied in anyway, including cyberbullying, please inform the school by speaking to their Head of House or reporting it through the Sharp System

The Sharp System is our very own confidential help and advice site for Sale High School students. The site is accessible from our homepage and through shmoodle. Students can use the site to report any problems they are having at school, at home, with friends and/or the local community. All reports are dealt with in confidence by Mrs Chapple and/or the Pastoral Managers.
Social Networking Sites  
The majority of children now have online contact with other children through a wide variety of games and social networking sites. Children should not have a Facebook account until they are 13 years old, however we realise that some children may have an account below this age. If your child does have a Facebook account or uses other social networking sites please talk to your child about the following:
Insist that you know your child's login details
Insist that you and other family members are 'friends' on Facebook (Then any inappropriate content can be monitored)
Make sure your child 'locks down' their profile to ensure only friends can access their page, pictures etc
Make sure any photos or videos are appropriate and don't reveal personal information, such as school uniform details
Be aware that it is recommended that school staff are NOT 'friends' with pupils, or ex pupils up to the age of 18, so please don't be offended if any requests are not accepted
Ensure that your child does not accept strangers as 'friends'. There are people and groups of people who trawl social media seeking to gain access to young people, their images and their contact numbers for illicit purposes.  Young people sometimes  accept complete strangers as 'friends' in an attempt to make themselves appear more popular without realising how much risk  they exposing themselves to
Useful Documents
How to control In-App purchases

Online tips for Parents from blocking to online friends
Top tips for keeping you child safe on their device or games console
Other useful links
Advice for Parents, Carers and Guardians
The dangers of sharing images and information on the internet and via mobile phones
A general informational guide to internet safety 
Reviews and ratings on all of the popular social media sites and apps that children are using. Parents share how appropriate each site is (by age), features on the site that pose risks for children