If you would like to find out more about our Primary Links programme please contact the school reception
Year 5 Parent Information Video – Please click on the image below: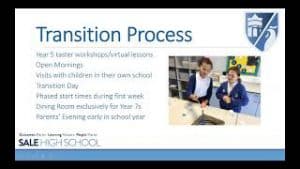 At Sale High School we value the links we have with our Primary Schools and provide a programme of activities aimed at enriching their learning and to get them thinking about transition to high school.
Focusing primarily on Y5 pupils, pupils are typically invited to take part in fun and stimulating workshops throughout the year, usually for English, Maths and Science. This enables them to see what its like to be in a high school and to experience some high school lessons.
We have also started sending our Primary Newsletter out to schools termly, to give primary pupils and parents a taste of what goes on at Sale High School.
To see some of the activities Y5 have been participating in so far this year, please have a look at our gallery.
See you soon Y5!
Welcome to Sale High School
Find all information for new starters from the school day to catering in our handy new starter guide.