School Day and Bus Information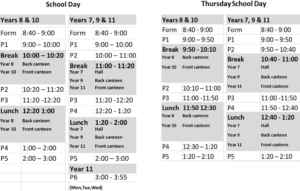 The school bus will collect students at 3:10 except on a Thursday when it will be at 2:15
The school library is open before school from 8am and after school until 4pm
School Bus Information
Sale High School Bus Timetable 2020/2021
Yellow School Bus passes
Due to the coronavirus pandemic, TfGM won't be issuing Yellow School Bus passes for the start of the new academic year in September.
Instead, all Yellow School Buses will operate as regular dedicated school buses, meaning no passes will be needed and any child can board any service. This will allow more students to use the buses at a time when the overall capacity on the network is still likely to be reduced.
Students will still need an igo card to pay concessionary fares.
Igo Cards are needed for students aged 11-16 to travel using any child ticket on buses in Greater Manchester.
You can also use the igo card as proof of age for travelling by tram with a child ticket.
https://tfgm.com/tickets-and-passes/igo-pass
General Information